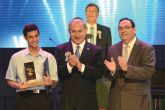 International Bible Quiz
2014 winner Eitan Amos (l)
(illustrative) Friday, 24 April 2015 | Yesterday on its national day of Independence, Israel held its annual International Bible Contest in Jerusalem. Awarding first place to 15-year-old Eyal Yitzhak Matas from Petah Tikva near Tel Aviv, Prime Minister Netanyahu praised all of the contestants. He also used the opportunity to teach a Bible lesson.
The prophets of the Bible, Netanyahu reminded, envisioned "ingathering of the exiles of Israel—from east and west—to our historical homeland."